Sales network Germany
Sales network Germany
Sales network Germany
We operate an extensive sales and service network to ensure proximity to our valued customers.
Please feel free to use our contact form on the website to get in touch with us, or get in touch with our contact persons directly.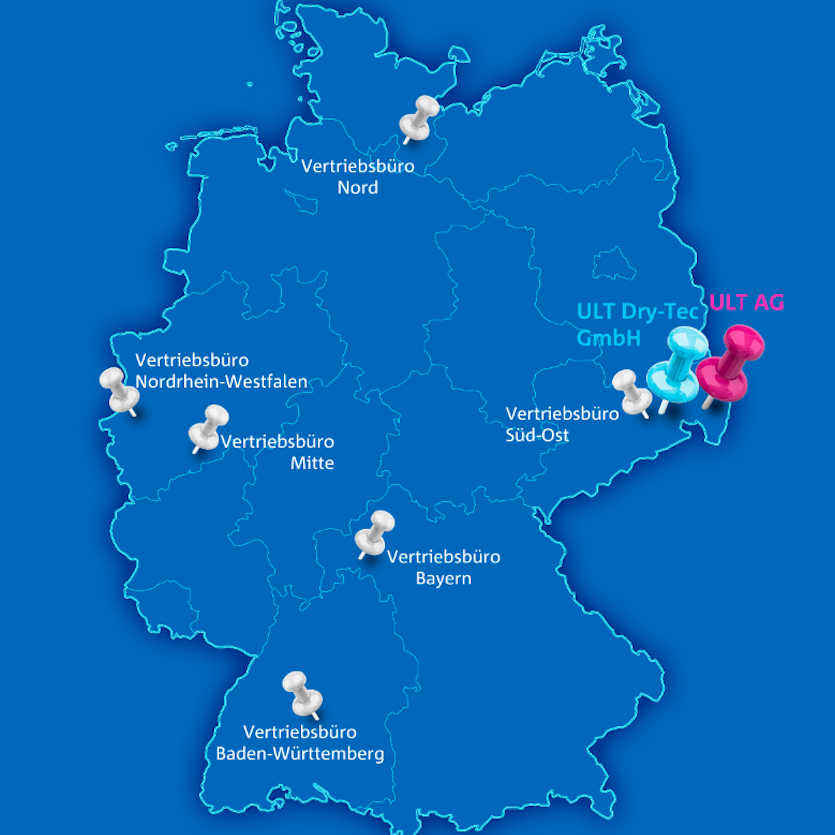 Sales offices and contacts
Sales offices and federal states
Contact
Sales office Baden Wuerttemberg


Wolfgang Schönheinz (ULT AG)

Sales office Bavaria

Klaus Droll (IVH Absaugtechnik GmbH & Ko. KG)

Sales office South-East

(Saxony / Saxony-Anhalt / Thuringia / Berlin / Brandenburg)

Uwe and André Bandowski (Ingenieurbüro für Absaugtechnik Dresden)

Sales office North Rhine Westphalia

Axel Karnuth (ULT AG)

Sales office Mid-West

(Hesse / Rhineland Palatinate / Saarland)

Benjamin Zander (ULT AG)

Sales office North

(Hamburg / Bremen / Schleswig Holstein / Lower Saxony)

Jens Möller and Walter Stephani (J. Möller GmbH)

ULT Dry-Tec GmbH

Frank Schimmelmann (ULT Dry-Tec GmbH)
Contact ULT
Our sales team in Germany
We will gladly put you in touch with our sales staff. You are welcome to contact us - your inquiry will immediately be forwarded.
Further related information about ULT AG