World's first scalable solution for process gas cleaning in metal additive manufacturing
World's first scalable solution for process gas cleaning in metal additive manufacturing
News from 2022/12/06
World's first scalable solution for process gas cleaning in metal additive manufacturing
World's first scalable solution for process gas cleaning in metal additive manufacturing
ULT is presenting the AMF 200 system, a worldwide unique solution for sustainable and flexible process gas cleaning in metallic 3D printing (LPBF - laser powder bed fusion).
This is a modular, open and, thanks to the use of standard components, cost-optimized extraction and filtration system for metal-based additive manufacturing systems of all sizes.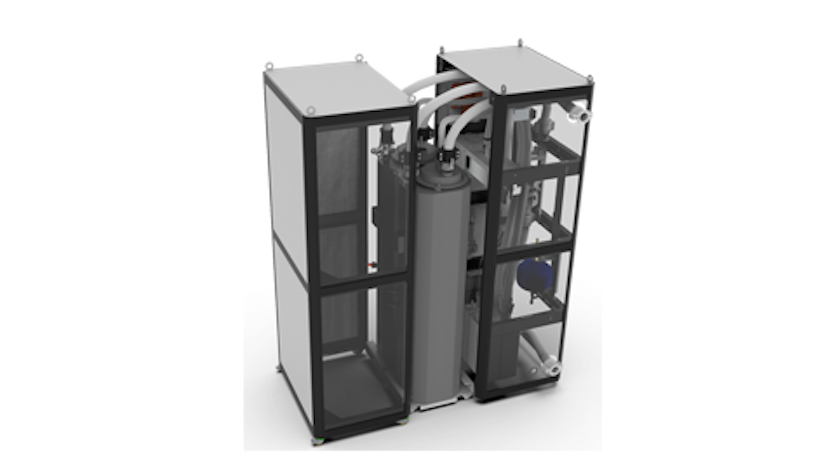 A significant advantage of the system is its scalability. As standard, the AMF 200 offers a volume flow of up to 200 m³/h at a vacuum of 10,500 Pa (N2, 50°C) / 15,000 Pa (Ar, 50°C). However, the AMF 200 can be variably adapted to higher or lower gas flows - regardless of the provider and the volume of the 3D printer.
In addition to the small footprint of 800x1200 mm and extremely simple operation, the contamination-free filter and powder handling is another decisive benefit of the AMF 200. Employees never come into contact with powders or condensates and are therefore protected from skin irritation or allergic reactions.
The system can be operated both as a slave with an I/O system and as an independent machine run by a specially configured controller.
Additional features, such as automated filter cleaning, the use of a side channel compressor with mounted frequency converter or the use of various sensors (differential pressure filter stages, filter cell fill level, oxygen, volume flow, temperature) round off the overall package as a sustainable and effective solution for metal additive manufacturing.
The development of the fourth-generation gas cleaning system from ULT is based on more than 20 years of experience in the field of additive manufacturing
As one of the pioneers in this field, ULT has been dealing with extraction and filtration solutions for industrial 3D printing for more than 20 years.
Our ventilation solutions for Additive Manufacturing processes